DZ Arms Custom Rifles
You have a new option, now you can select your wood from a list of stock blanks we have in stock.
Click on picture and it will take you to the page of stock blanks to choose from.

When Quality and Accuracy Matter
New video on how to clean your Hepburn action!!
New video on how to set the double set triggers on your Hepburn action!!
All rifle and scope parts are manufactured in Oklahoma City, OK USA
For over a decade DZ Arms has been manufacturing top quality Remington #3 Hepburn Rifles in Oklahoma City, OK. Now due to overwhelming requests we have added bench rest/hunting quality bolt action rifles to our product line with a variety of options all at a price that fits your shooting budget. And don't forget DZ Arms offers full Gunsmithing services. Everything from repairs and scope mounting to complete restorations check out our Gunsmithing page if you don't see what your looking for simply go to our DZ Arms contact page and let us know what you are looking for and we will be happy to price it for you; alternatively, if you have a question, please go to our "Ask Dan" page.
An important note to our fellow shooters: DZ Arms believes in only manufacturing the finest firearms and shooting accessories, scopes and of course, our fully repeatable scope mounts. All of our products are expertly machined with CNC machines, many from a solid block of steel or aluminum. As you can imagine, this level of craftsmanship takes time and we simply refuse to outsource our work (or rush our production). With this in mind, we ask that you be patient with us as we sometimes find ourselves with more orders than we can fill. We can assure you that when you do receive a product form DZ Arms, it will be the finest, most accurate product made in Oklahoma City, OK and your wait will be rewarded.
Note:
IMPORTANT NOTICE TO CANADIAN SHOOTERS: We are no longer permitted to export ANY of our products to Canada; if you wish to purchase a DZ Arms product, you will have to make arrangements to have it delivered in the Continental USA and handle the importation yourself. Thank you for your continued confidence. DZ
---
About The Hepburn: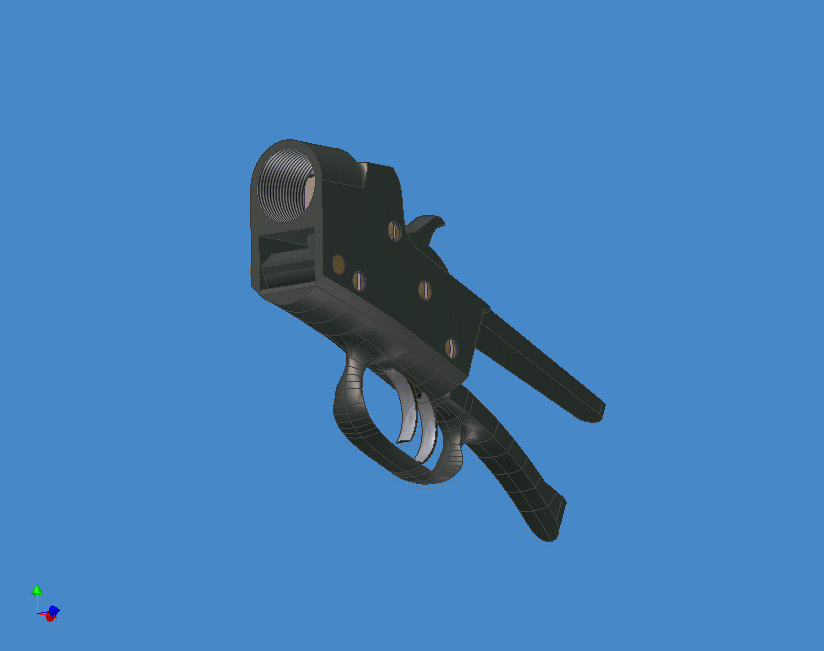 Lewis Lobdell Hepburn was born on March 2nd 1832. His middle name is often misspelled, but his family confirmed the spelling to H. J. Swinney, the noted authority on New York state gunmakers. L.L. Was always fascinated by guns much to his father's disapproval. He entered an apprenticeship as a blacksmith at the age of 15 He made the iron fixtures for carriages for eight years and was listed as a blacksmith in the 1850 census. Researchers have assumed that he learned the gunmaking trade from M. J. Whitmore in the "Wagon and Gun Shop" in Potsdam N. Y. where they both worked.
By 1859 he was a well-known gunmaker. In an article in Porter's "Spirit of the Times," the premier sporting periodical of the era, said, "passing through the town of Colton, we called at the shop of Hepburn, somewhat noted for his barreled rifles, which are now in vogue etc." The census of 1860 lists L. L. Hepburn, age 28, his wife Lovinia, 23, and their daughter Calla, 2. It also lists Hepburn's shop as having one hand (worker), L.L., himself. However another gunsmith named Buskirk may have also worked there periodically.
In 1871 Hepburn was called to superintend in the sporting gun department in the E. Remington & Sons gun factory at Ilion, New York. Alden Hatch later wrote that Hepburn was the "foreman of the mechanical department."
In 1873 the Irish Long-range rifle team was fresh off the winning of the Elcho Shield trophy, having bested all of the other teams from all over the British Empire. They challenged the U.S. marksmen to a match to be shot in 1874 at distances of 800, 900, and 1000 yards using rifles with iron sights, plain triggers of three pounds pull or more, and having a rifle weight limit of ten pounds.
At that time the U.S. had no formal rifle teams or target rifles for this specific type of match; however the challenge was accepted. Both the Remington and Sharps companies agreed to develop suitable rifles. Land was acquired on Long Island from a landowner by the name of Creed. Once established the range was subsequently named Creedmoor. (Ed: Also Creed's Moor and other variants of spelling.)
The match was fired on September 26 1874. At it's termination the upstart American team had beaten the best in the world. L.L. Hepburn was one of the nine members of the U.S. team. Contemporary accounts state that half of the team used Remington rifles, the famous #1 Long Range Rolling-Block and the other half used Sharps rifles. Since there were nine members this leaves one shooting with two half-rifles—-pr perhaps something a little different.
After the American team won the match, L. L. Hepburn, who was not noted for being the boastful sort, stated, "the rifle I shot was all made by my own hands." He would not have said that about a factory produced rifle. Could the rifle pictured here possibly have been the rifle he used?
I purchased the rifle pictured from Oliver's auction of the Jack Appel collection in May of 1989. It was listed as Item 3 20 in the sale. Previously it had been pictured in James Grant's book "More single Shot Rifles" on page 92. Prior to his death Jack Appel was known as THE Remington collector. It is completely hand made except for the sights. The barrel has the standard Remington 5-groove style rifling and is chambered for the .44-77 cartridge. Could this possibly be L. L.'s Creedmoor rifle? It appears to be the prototype for the #3 Hepburn action that was later patented on October 7th, 1879 (Pat. #220285) and put into production in 1880.
I have advertised and searched for a photograph of L. L. Hepburn at Creedmoor in 1874 holding his rifle. (Ed: If anyone is aware of any such existing photograph the Journal would be happy to publish it and forward it to Dick.) L. L. Hepburn slipped on ice on the morning of Jan 10th, 1910 at the age of nearly 78, and broke his hip. His hip never healed properly and he died on August 31, 1914.
Sources cited include: "Lewis L. Hepburn, Gunmaker Extraordinaire" by H. J. Swinney, Remington Society of America Journal, 2nd quarter 1998; and More Single Shot Rifles, by James Grant, Gun Room Press , 1976 edition.
Phone number 405-691-1215
View All
Products & Services
DZ Arms proudly presents our custom NRA Approved Malcolm Style 8 Power Scope. This scope is handcrafted in the USA using all American parts and provides exceptional clarity. When you combine the DZ Arms Scope with the DZ Arms Universal style mounts, you get a powerful combination that provides exceptional […]

Read More

We offer a large selection of custom machined Hepburn rifle parts ranging from triggers to levers to extractors to original firing pins. Click on the picture to see our full selection. Note: IMPORTANT NOTICE TO CANADIAN SHOOTERS: We are no longer permitted to export ANY of our products to Canada; […]

Read More

We offer a large selection of custom machined Winchester rifle parts ranging from triggers to levers to extractors to original firing pins. Click on the picture to see our full selection.

BSA Martini International Extractor Extractor fits a Mark-2, Mark-3, Mark4 and Mark-5 22-RF They are NON existent in the USA. This extractor will drop in without any fitting. The extractors are made from A2 Tool Steel and heat treated. Note: IMPORTANT NOTICE TO CANADIAN SHOOTERS: We are no longer permitted to […]

Read More

Each time you handle your firearm, salt and acts from your own fingerprints leave your gun's metal parts prone to rust and corrosion. Moisture during use and storage is harmful as well. Don't forget the stock. Wooden stocks need to be protected too. Ray's is an excellent protectant and is […]

Read More